Introduction:
Diving for the illusive Jules Verne cephalopod, the monster of the deep, and probably twenty thousand leagues above (and below) what I should be diving for, I was suddenly attracted by a mysterious wailing; a wailing that dreamily emanated from a distant island, a tropical oasis in the midst of the ocean. Unnerved and helpless I drifted towards the haunting sound, and as my vision focused in on it's source I became aware that this island was a fantasy adorned with a veritable feast of all my favourite marine delights: lobster, sea trout, banana prawns, oysters, monkfish, sea urchins, snapper, Atlantic salmon, sardines, octopus, mussels…the list was endless. With only metres to spare before landing on this paradise, I was swept away by an unknown of the deep, taken down and down into a helical vortex only to emerge moments later sat in a café and wondering how I can introduce the next recipe on the blog…
And as I struggled to introduce the majestic recipe for pickled octopus, my mind wandered and suddenly I found myself diving for the illusive…
| | | |
| --- | --- | --- |
| Serves | Preparation Time | Cooking Time |
| A few as nibbles | 30 minutes | 2 hours + 2 days marinating |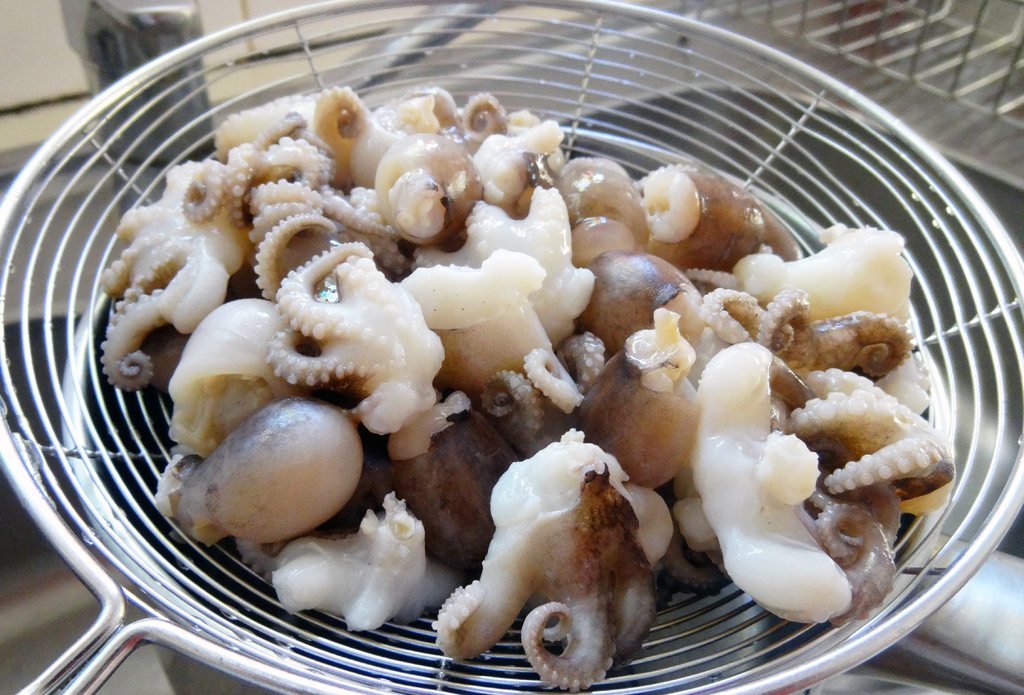 | | | |
| --- | --- | --- |
| Ingredients | Measures | Notes |
| Baby octopus – cleaned | 1 kg | Most baby octopus is already cleaned when bought. |
| For the Marinade | | . |
| Extra virgin olive oil | 350ml |   |
| Garlic | 2 cloves | Finely sliced |
| Red wine vinegar | 250ml | A good quality aged vinegar is ideal. |
| Sherry vinegar | 80ml | This is very flavoursome vinegar, adored by French chefs in particular. |
| Dried oregano | 2 tsp | Fresh doesn't impart as much flavour |
| Lemon juice | 2 tsp | Freshly squeezed |
| Lemon zest | 2 pieces | Each piece about 5cm*1cm |
| Szechuan peppercorns | 4 | Crushed |
| Black peppercorns | 8 | Coarsely ground |
| Extra virgin olive oil | A drizzle | A drizzle to coat the octopus |
How To:
I have written a post about Cooking Octopus, Squid and Cuttlefish and the science behind it. I recommend giving it a whirl if you are interested as to why this is cooked for so long.
Preheat your oven to 90 deg C (195 deg F) – it's essential to use an oven thermometer as if the temperature is too high the octopus will over-cook.
Prepare a pan of boiling water and add the cleaned octopus.  Blanch for 20 seconds and then immediately remove from the water. Add to a dry pan, cover the pan with a lid and then put in the oven for 2 hours, regularly checking the temperature of the oven.
To prepare the marinade, add all the ingredients to a bowl and then stir gently to disperse; we are not looking to emulsify the oil and other liquids, however.
Remove the octopus from the oven and drain the juice. The juice (or jus) is quite gelatinous and extremely flavoursome. It can be reduced to a very rich sauce or used to flavour other sauces or soups. I usually freeze it for later use.
Let the octopus cool for 10 minutes and then carefully add it to the marinade. Gently coat the octopus in the marinade, cover the bowl with cling film and then refrigerate for two days. This allows for the pickling process to occur and means that the octopus becomes infused with those lovely herby and zesty flavours.
After two days remove the octopus from the fridge and if (only if) the marinade has set just warm it gently so it melts (important – we do not want to warm the octopus). Remove the octopus from the marinade, put it in to a clean bowl and then drizzle over the olive oil to coat it. It's now ready for eating. The marinade can be discarded.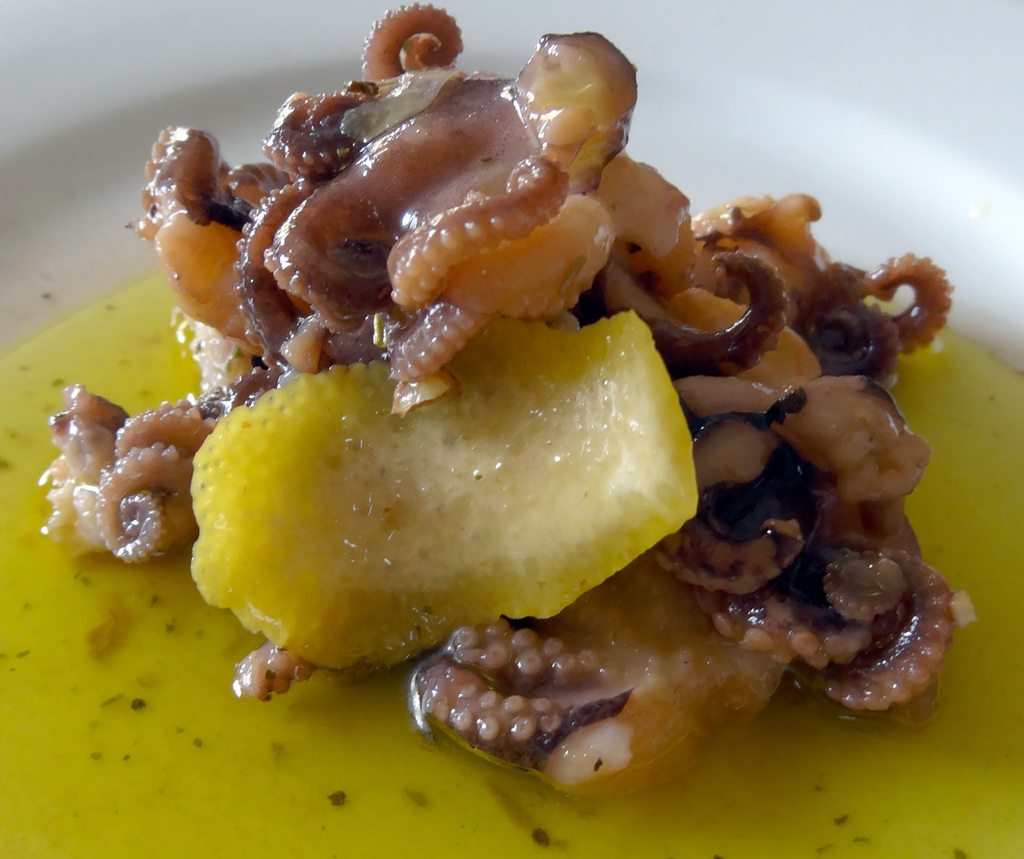 Notes:
Great served on platter as an appetiser.